Foundry Motorcycle Company build the BMW of all BMW's
Foundry Motorcycle in Chichester have built a couple of really nice Beemer customs recently, and they have an unenviable task making a Boxer twin stand out in the UK, (where flat twins seem to be everywhere), but not only is this bike a well-proportioned quality custom, it also has a few unique features, most notably that pipe, which runs through the back of the seat. We're told it's extremely well insulated. …The bike certainly impressed the visitors at last October's Bike Shed exhibition, in a see of BMWs.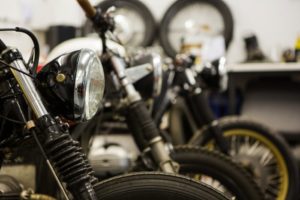 The donor bike started life as a 1981 BMW R80 TIC which was purchased via ebay from a guy in East Sussex who is one of Lord March's personal drivers. We'd been looking for a suitable BM donor for a while and Tom ended up with three in the space of two weeks. Originally the bike was being put together as Tom's daily ride but it was spotted whilst on display at this years Goodwood Revival by Carl who patiently waited for it to be finished, then promptly came and whisked it off to join the rest of his fine bike collection.
In 2006 Tom's brother was wandering around Barcelona when he spotted a very cool looking R80 parked amongst the rest of the bike chaos and emailed Tom a photograph. At the time, it was completely unlike any other Beemer he'd seen, clubman bars, pod filters, single seat and some other neat touches, Tom instantly fell in love with the overall style and decided he had to build something with a similar character. The picture was regularly talked about, but it took six years to finally get round to the build.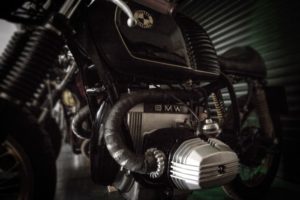 After looking at the original photo many, many times, it was decided that the Foundry bike needed to be a little more refined. So, after the initial 'strip down', a new rear subframe was created to work with a shorter seat, then an up and over exhaust followed, but that couldn't be the same as anybody else's! Exit through the upholstered seat rather than under or around it seemed a pretty fresh approach and a quick mock up looked great. Tom also had a real bee in his bonnet about fork clamp mounted headlights, so decided to create an extended fixed headlight frame, which gives the front of the bike great attitude.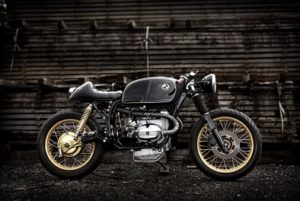 "The custom leather seat was made hollow with minimal padding (this was never gonna be a tourer!) and extra heat shielding. Wheels were stripped, painted/powder coated then rebuilt with stainless spokes. Frames were blasted and coated, the engine was checked, cleaned and painted and batteries were moved. The bike was fully rewired, pod filters were added, carbs were adjusted and a Daytona digital speedo fitted into a custom top yoke. We'd painted the tank ourselves and were reasonably happy with it, but then met Dennis at D-Lucks! He reckoned he could do a far better job and he certainly did. The matt and gloss black with gold combo was beautifully executed in double quick time and topped off with a fine gold 'Foundry MC' propeller logo."
"The exhaust sounds like no other boxer we've come across yet, a tractor at idle then something that Marc Marquez would ride, as the revs pick up."
"The bike was always meant to be a café racer style machine and as such has a committed but not uncomfortable riding position. With the lowered front end and raised rear, it rides pretty well having no problem delivering a big grin. After a day on the bike with fast and stop start riding for our latest video it still felt great. We love the bike and hope Carl does too. Hopefully it won't be too long before some nicer weather comes round and he can really start getting out and about."